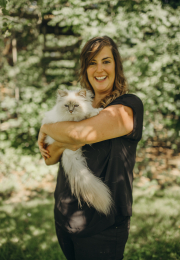 Thank you!
Amazing! You are on your way to make your cats happier than ever!
You can watch your Happy Cats Video Training in our 'I Love Happy Cats' mobile app that you can download in the Google Play Store or Apple Store.
You can also watch in it in your browser by logging into happycats.passion.io.
After checking out on Clickshare, you will receive two emails. One email from our mobile app platform 'Passion' with your login information. You will receive another email from Happy Cats with this practical information for you to keep safe.
Enjoy!!
Love, Anneleen ♡