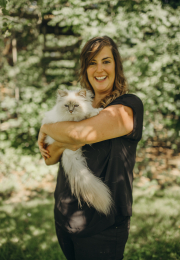 Hi, nice to see you!
Really! Because our Happy Cats Video Training is a really fun program that I know will teach you a lot about your cat's behaviour, your relationship and it will all get even better, I promise.
More than 1500 participants have already participated, and many of them are as enthusiastic as I am! So, thank you for giving me the opportunity to give you some more info about this training program.
On this page I'll give you all the info you need to decide if the Happy Cats Video Training is for you or not.
Love, Anneleen ♡