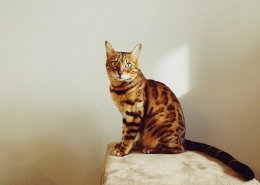 Want to understand what your cat is telling you?
Understanding the unique behaviours your cat is showing you is the key to a happy cat!
Every cat is different from any other cat. Although they share the same genetic background, each cat has their own socialisation, social tendencies, resilience, sensitivity to change and stress, preferences, learned behaviours etc.
Understanding all these different behaviours cats can show us, is truly the key to making your cats happier. Once you understand, you'll know how to react, change things around the house and how to manage and modify it.